Information about the benefits of an employee is clearly explained in the portal. This may include salary structure, tax deduction, insurance, vacations and absences, overtime, etc.
LiteBlue Employees Compensation and Benefits
LiteBlue USPS offers a competitive salary and benefits package for the Post Service ™ employees.
Compensation
In addition to competitive basic wages and regular salary hike, most employees may also receive overtime, night shift wages and Sunday bonuses, depending on the type of work.
LiteBlue Employee Health Insurance
Swiss Post participates in the FEHB program, which offers excellent coverage and flexibility for most shipping costs. There are many plans available, which include Free- For-Service, Health Maintenance Organizations (HMOs) and highly deductible and consumer-centered health plans. Employee premiums are not subject to taxes, which makes health insurance even cheaper.
Dental and Vision Insurance
LiteBlue USPS Employees are qualified to participate in the Federal Insurance Program for dental and visually impaired people (FEDVIP). As employees bear all costs, this group insurance offers excellent protection in even better terms, since contributions are not taxable.
Flexible Spending Accounts
LiteBlue Career employees can join the Flexible Spending Accounts (FSA) program after one year of service. FSA tax-free contributions cover some not very expensive health care and dependent care (daycare expenses).
Long-Term Care Insurance
Employees can register in the Federal long-term care insurance program (FLTCIP), which ensures that the cost of long-term care (breastfeeding or resuscitation) is usually not covered by insurance or medical insurance.
Retirement
Swiss Post participates in the federal pension plan that offers pension and disability insurance. The eligibility depends on the age and years of service of LiteBlue Employee.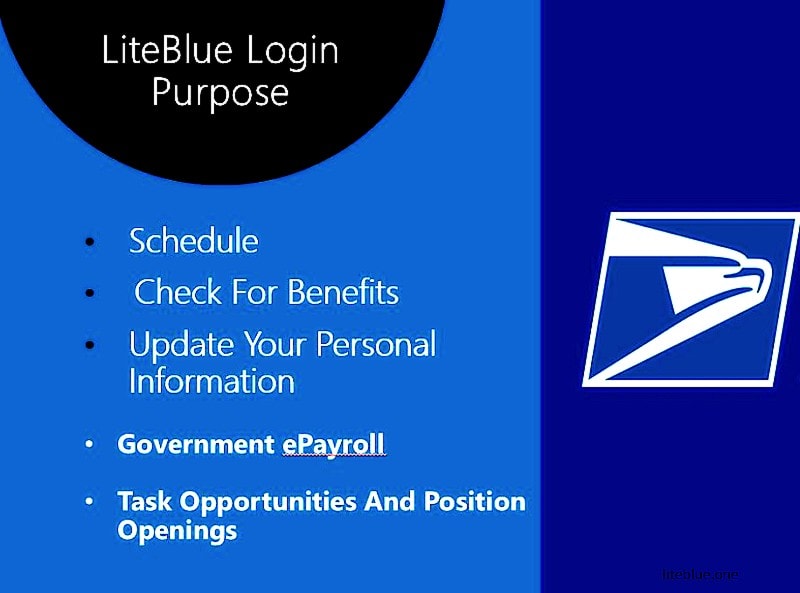 Life Insurance
The Postal Service provides coverage through  Federal Employees' Group Life Insurance.
Commuter Program
This program offers the investment of public transport and parking within the limits established by the IRS to reduce the cost of personnel wishing to participate.
Leaves
The postal service offers a generous annual license and sick leave: 13 days of leave for the first 3 years, which increases to 20 days per leave after 3 years and 26 days after 15 years of service. In addition, full-time employees of LiteBlue make 4 hours per pay period as insurance against loss of pay due to sickness or accident. Annual leave and sick leave are granted in proportion to part-time hours.
Holidays
The Postal Service observes 10 holidays each year.
The postal service provides a learning environment that improves success through training initiatives that help employees improve their basic skills and develop their leadership skills. Leadership development is a comprehensive multi-level program for LiteBlue executives who meet specific performance criteria.